HALKIDIKI

NEOS MARMARAS

Porto Karas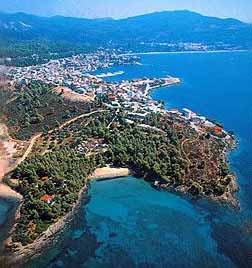 Sample them at the local wine-tasting centre, which is a part of the famous Porto Carras tourist resort. Porto Carras complex has three hotels and it also includes a marina with pleasure craft, an open-air theatre, a casino and a golf-course.

Porto Carras also includes a model farm and poultry farm to supply its needs, an oil press and a winery, which produces its tasteful range of wines. Since 1970 the great increase of the tourist traffic, turned Neos Marmaras into the tourist centre of the area.
Please share your opinion of it with other travelers. Write a review!